Style Interview: The August Sayang
"The Sayang woman embodies a certain type of confidence and effortlessness…"
Dianna Yong
As someone who loves creative arts, styles and photography, I often change my outfits every so often. Other than borrowing and renting; just like many others, I tend to purchase cheap and/or good quality fashion goods. However, such lifestyle leads to more "wasteful" consumption that undermine the quality of environment and human well-being by depleting earth resources, releasing high carbon emissions, poor labour conditions and more unwanted chemical waste!
SO, how can we spend and consume more responsibly?
Since 2018, I have always wanted to learn more about the Eco-Fashion Movement, AND… here it is, my very first interview with Dianna Yong, founder and creative director of a locally-made "ethical" and "mindful" fashion brand in Malaysia - SAYANG that speaks not only for fashion, but also for People and Planet.
Since the inception of Sayang in 2018, tell us more about you and Sayang. What motivated you to found Sayang?
I've always been a creative individual, and I've always wanted to start my own label. During the process I found that there are many negative impacts from running a fashion business. So it took a lot of time and research to find alternative ways to be more sustainable/ethical - hence, the birth of Sayang.
Walk us through your creative process to build your collections. WHAT inspires you?
I am inspired by a lot of things - movies, stories, other forms of art. However, when I'm designing, I am always having the women who would wear these items in mind. The Sayang woman embodies a certain type of confidence and effortlessness, which I aspire to have. And this translates into Sayang's silhouettes, detailing, and fabric choices - building a strong foundation in femininity and minimalism.
Can you help describe your latest collection?
The latest Sayang SS19 collection features fourteen new pieces. The designs itself are versatile, creating easy day/night transitions, and wearable with other existing items you have in your closets. The editorial for the latest collection was very much inspired by the notion of sisterhood - a celebration of friendship, innocence, and playfulness.
On your website, you mentioned SAYANG is a "mindful fashion". Could you describe the difference between "mindful fashion" and "ethical/sustainable fashion"?
To be frank, I don't like the word sustainable - it's an oxymoron. The word is often times loosely used, and I believe it was misconstrued through our press and media when we initially launched. Sayang no longer claims to be a sustainable label. However, more of an ethical and mindful label. We are mindful at every step of the way from production, sourcing, design, and packaging. We do our best to opt for the better option available to us. Fabrics and materials are an essential part to us being mindful - we have previously worked with organic cotton, and now with our latest collection, a supplier that specializes in eco-friendly fabrics and natural dyes.
Would you consider SAYANG a "slow fashion" brand as opposed to fast-fashion? Why?
Yes we are. For one, we have a slow turn around compared to fast-fashion retailers. Our products and collections are much more curated, not catering to any temporary trends, but producing items that contain a true essence of what Sayang is.
Do you think the world is ready for slow fashion? What do you think are the sensibilities of the Malaysian market toward it?
It's a tough concept to tackle isn't it. I think first we must ask ourselves what it is that we are trying to "sustain". It's a never ending paradox.
Sustainable labels are emerging, but often times comes with a higher price tag, that a majority of the market simply can't afford. Are you being sustainable if the rest of the world can't afford your items? And often times, we shame those who opt for fast-fashion/cheaper options - when in reality, this could be the only viable option for a majority of the market.
And comes measurability - there is simply no way to measure how effective sustainable items are, especially when in comes to clothing.
Awareness and Action are two very different things. I believe there has been an increase of awareness in the Malaysian market of slow fashion, being Eco-conscious, etc. However, taking action takes ten more steps of effort.
What advice would you give to our readers on how to shop more mindfully or build a more long-lasting ethical wardrobe?
Invest in staples, donate, alter, and thrift. Whenever you're buying a new item, see if you're able to wear it more than 14 times. It's completely fine to have new purchases, as long as you are making full use of the product, and making sure that you are disposing it in the best way possible.
What is your view on being an entrepreneur? What were some of the obstacles during the early stages, and how did you overcome them?
You have to have grit. A major obstacle was building a network that was helpful to the supply chain of the business. It took a long time to figure our sourcing, production, and also having the right people to execute my vision for collection editorials, etc.
What's next for SAYANG?
Hopefully we can work with different production houses, and of course better each department of the business. Hopefully building a small team within the next few years.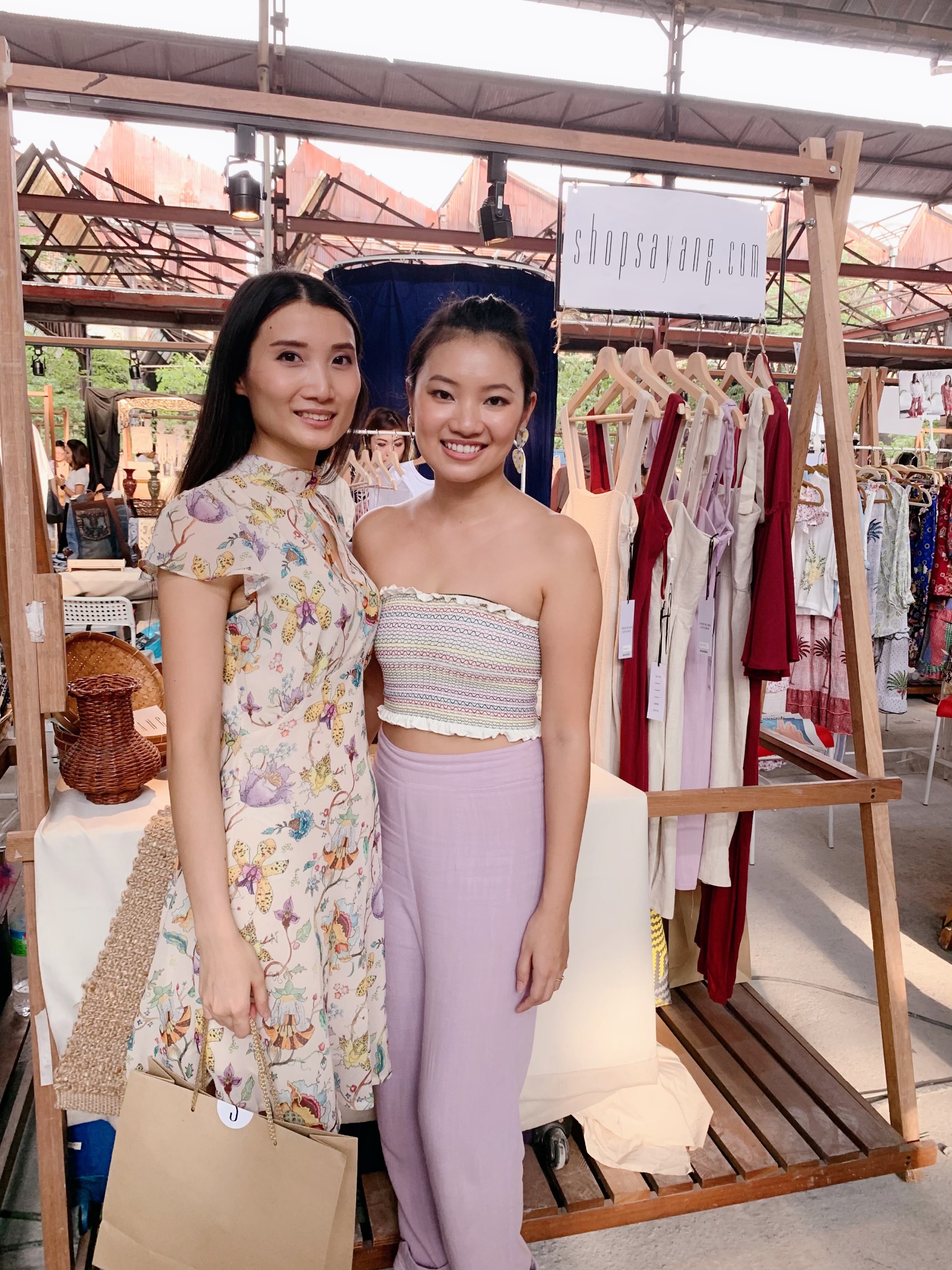 Be ready to top the world with a twist of femininity and minimalism that cares for the People, Planet and Fashion!
Check out SAYANG at www.ShopSayang.com and their instagram page.
Lo and Behold, here are some shots taken wearing Sayang's capsule collection'18
-photos courtesy of @happyfingers